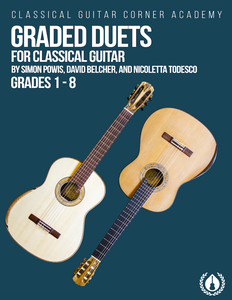 This book contains 45 duets structured into eight grades of progressive difficulty. We have chosen these pieces for their musical and educational qualities so that you can focus on playing music that is suited to your level of ability. The difficulty levels vary between parts 1 and 2 in some pieces, and each part is assigned a grade level in the contents of this book. There is enough variety to bring together teachers and students, guitarists of similar ability, and guitarists of diverse ability.
The composers range from Renaissance music through Baroque, Classical, Romantic, and Modern. There are even several new duets composed and commissioned specifically for this publication.
The scores are written in standard notation and do not include TAB (including TAB would need a book of almost 400 pages!).
Lessons and recordings of these pieces are in production for Classical Guitar Corner Academy.
A wonderful addition to the collection of graded books from Classical Guitar Corner.
Please note:
These spiral bound editions are printed on demand and will take a minimum of ten business days to arrive in the mail. If you are interested in a faster arrival time, then a "perfect bound" edition of this book is available on Amazon.
 In the Pocket, by Simon Powis (Grade 7) Scott & Chris
Simple Gifts by Joseph Brackett (Grade 1) Jose and Brent

Bach Invention in A Minor (Grade 6) Jane and Heidi