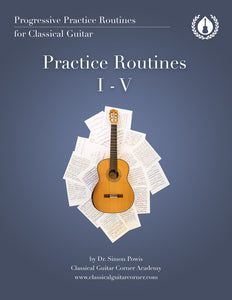 Structure and Focus for the Beginner
This set of 5 practice routines for the classical guitar is progressive and builds up your skills in a structured way. Each routine builds on the last providing new challenges that will keep your development going at a steady pace. With 26 pages full of content, this book offers a wonderful way for the beginner to work in a disciplined way, and can offer guitar teachers a useful tool for lessons and weekly practice assignments.
The book comes with an introduction and several pages of instructions for each exercise. Then, the routines are left without any cluttersome text so you can set out the pages and get on with your daily practice routine. The important factor in these routines is that they are in bite size chunks which won't overwhelm the beginner and as the routines progress they get incrementally more challenging which advances your playing while reinforcing good habits.