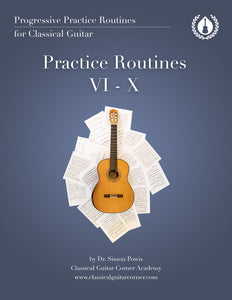 Practicing with structure and goals can greatly improve progress and also gives us a feeling of accomplishment. These 5 Practice Routines are designed to give a comprehensive technical workout at a beginner/intermediate level.
Each routine included in this book is aligned with grades 2 and 3 and lines up with the other graded components of Classical Guitar Corner. All of the techniques are taught in the Level 2 Technique & Musicianship course and several exercises are specifically geared towards the repertoire in the CGC Repertoire Book 2. This grading of material means that you will not be stumped by anything that is too difficult, but you might be pushed sometimes and that is a good thing.
I recommend learning all five routines so that you can play them straight through without stopping, then you can use them as part of your daily practice session five times a week. Over the course of those five days you will have covered a comprehensive practice schedule.