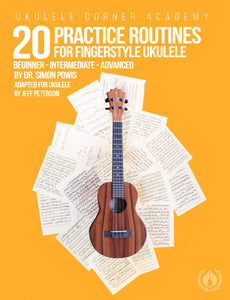 20 Practice Routines, in a spiral bound book!
Featuring heavy paper stock and lay-flat spiral binding, this book will keep you focused for years to come. 
Contains progressive practice routines and instructions for grades 1 through 8.
Each practice routine includes numerous exercises and studies that create a progressive technical path towards improvement. The practice routines also align with the graded repertoire at Ukulele Corner Academy.
131 Pages, Spiral Bound
Includes both TAB and Standard Notation
Written by Simon Powis and adapted for ukulele by Jeff Peterson
Please allow 10 days for printing and delivery.
This book is also available on Amazon, albeit without the spiral binding.