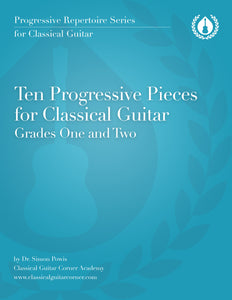 Pieces include:
5 studies by  Sor
Waltz in G by Aguado
Waltz by Carulli
Petit Caprice by Carulli
Andantino by Carcassi
Etude #1 by Giuliani
This book of classical repertoire is designed for the beginner guitarist and goes along with the level one lessons. Featuring works by Fernando Sor, Mauro Giuliani, Mateo Carcassi, and Ferdinando Carulli, it has some of the most musical pieces of the beginner classical repertory.
Each book comes with three versions of each piece. One with fingerings, one clean and one with tablature. The fingered versions are useful to the beginner, as they guide them through difficult passages with correct fingering. The clean version is great for student and teacher alike who would like to add in their own fingerings or simply use the music for sight reading. The final version with tablature is great for those guitarists who are still getting to grips with standard notation.
Perfect if you have and iPad or tablet, this comes as a pdf download that is available immediately after purchase.
Get your copy instantly for $9.95