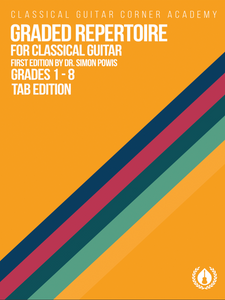 After receiving many requests, we have now published the Graded Repertoire Book in TAB!
Featuring 52 works that span grades 1 - 8, this book presents an organized and progressive approach to the core classical guitar repertory.
An excellent tool for the teacher or the self directed student, the repertoire has been chosen to work on specific technical and musical challenges in sequence. 
With over 20 pages of notes and instructions the book offers guidance to the reader about what to focus on in each piece. The scores have been meticulously edited for clarity and instruction. 
160 pages, Spiral Bound, heavy white paper stock.
Please note:
These spiral bound editions are printed on demand and will take a minimum of ten business days to arrive in the mail. If you are interested in a faster arrival time, then a "perfect bound" edition of this book is available on Amazon.